Suffering from an acquired brain injury is something no one ever wants to go through. After a spinal cord injury, brain trauma, or a stroke, there can be so many uncertainties about your future. Will you suffer from paralysis? What are your new physical limitations? How long will you have to be in rehabilitation centers before you get back to activities of daily living? Recovery can be a long journey that tests your will and endurance. But with the help of physical therapists and clinicians, you can regain some strength and get used to that new normal.
If you work at or with rehabilitation institutions, you have first-hand experience with helping patients relearn their new human capabilities. Thanks to new technology, you can offer assistance in innovative ways that get actual results for patient progress for both acute injuries and chronic injuries. Robotic exoskeletons from Ekso Bionics are going beyond the limitation of what physical therapy and rehabilitation can achieve for patients recovering from brain injury.
A wearable exoskeleton is designed to help individuals get out of the wheelchair and relearn how to walk with a natural gait. Ekso Bionics and EksoNR are industry leaders in exoskeleton technology and are the only wearable robots that are FDA-approved to help brain injury, spinal cord injury, and stroke patients in recovery. Ekso is helping patients and therapists see actual results and is in many cases becoming an essential part of the recovery process.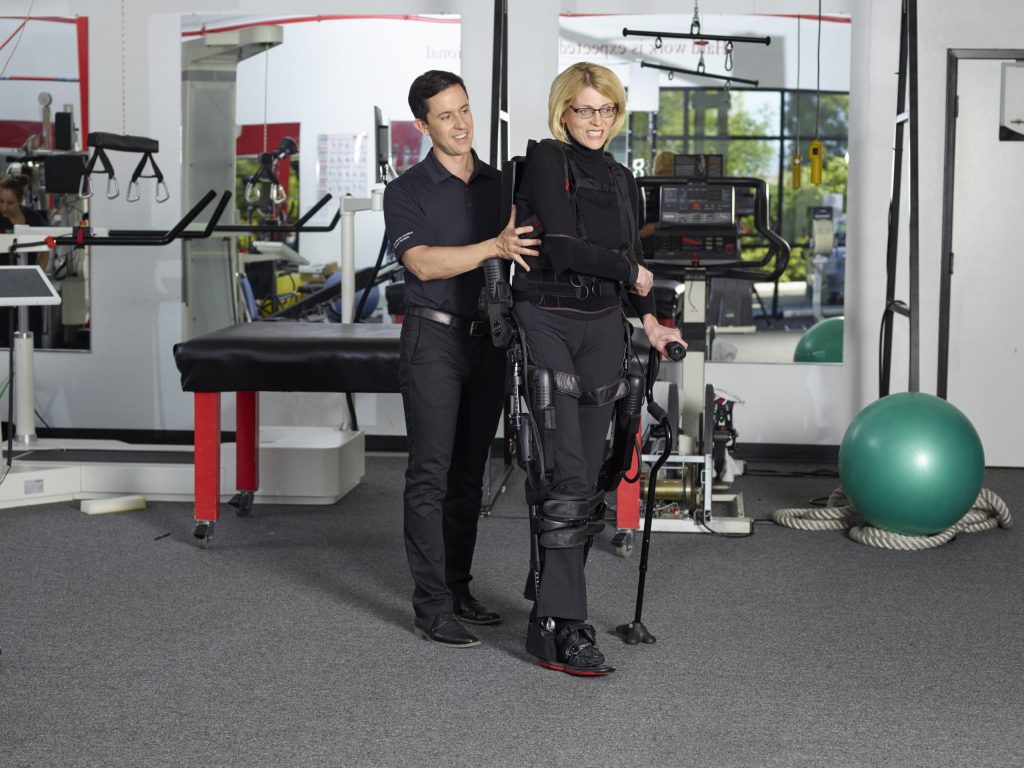 The Goal of Rehabilitation for Brain Injury
Brain injuries can leave patients in the hospital for a significant length of time. It can take many rehabilitation sessions to regain function and natural abilities. Sitting, walking, eating, or even moving limbs may be difficult tasks for patients. The goal of neurorehabilitation is to help these individuals find some semblance of normalcy with their bodily functions. Physical therapists typically help by offering exercises and tracking gradual improvements. The Ekso company's technology and medical device products assist with this process and help progress patients across the overall continuum of care.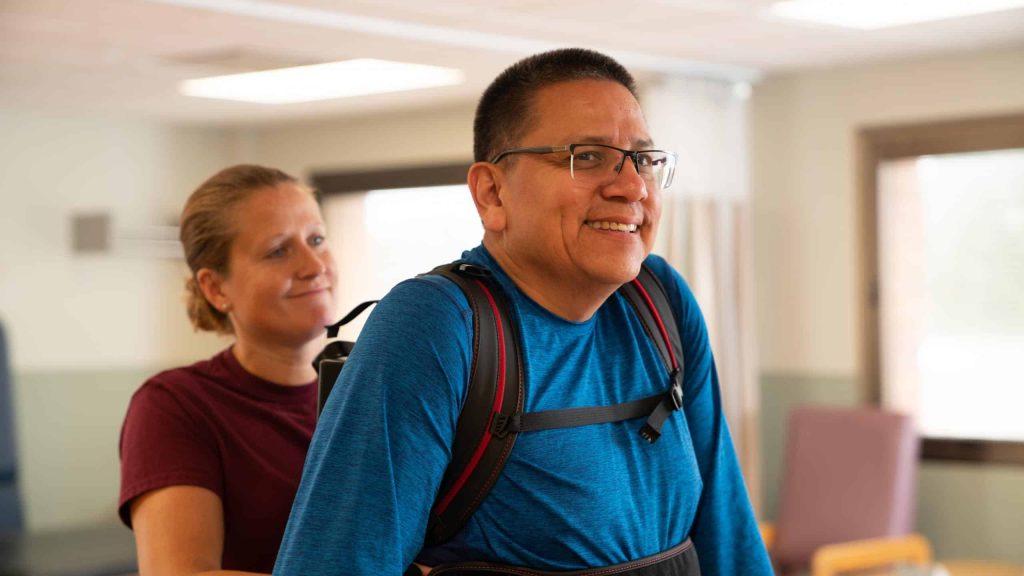 Robotics speed the rate of recovery.
While the rate of recovery is different for every person, robotics are becoming an essential piece to help speed up the process. An exoskeleton pushes the wearer in new ways and offers levels of support every step of the way. These robotics move beyond limitation and help give patients newfound confidence in their abilities. With a quick turnaround from emergency care to walking on their own, EksoNR is helping patients get their life back as soon as possible.
Physical therapists can adapt treatment for each patient's level.
Physical therapists are always looking for ways to improve their company's operations and give better treatment to their patients. Innovative wearable robots do just that. Because of the flexibility of the lightweight design and adaptability of smart Variable-Assist sensors, a bionic exoskeleton can be adapted to work with patients during every level of their treatment. At first, it can provide full body weight support and assistance, but as you see patient progress, the robot will back off so the patient can start to move on their own with minimal assistance from the exoskeleton or SmartAssist. This can offer a true challenge for patients to push them beyond previous limitations. This opens the door for actual results and better levels of personalized treatment.
Ekso gives patients a sense of hope and renewed freedom.
The uncertainties of acquired brain injury can leave patients feeling lost and hopeless. EksoNR gives them a renewed sense of hope when they explore their newfound freedom. Instead of a lifelong need for a  wheelchair or other assistive device, they can get up and work on regaining function of their lower extremities to one day walk without any assistive device at all. This realization can be a motivator for patients in your rehabilitation clinic. See progress first hand with the only exoskeleton that is on the side of the patient with a brain injury every step of the way, literally.
Contact Ekso Bionics
Exoskeletons and robots may sound as though they belong in a sci-fi film, but they don't. Exoskeletons belong right here, among the millions of people experiencing the effects of neurological and physical injuries leading to weakness and paralysis. To learn more about the newest exosuit technology and how they can help your application, reach out to the Ekso Bionics team today.