On a day that started like any other, 20-year-old Sasha Pavlenko went to an early morning class to give a presentation. She had just transferred to the University of Dayton two months prior and was excited to spend time after class with her childhood friend, Cortni, who was in town visiting her.
It was St. Patrick's Day, and students started their celebrations early. That afternoon, Sasha and Cortni went to a house party and were talking with a group of friends on a second-floor balcony. Suddenly, a party guest ran into Sasha, causing her to fall 25 feet to the ground below. She was knocked unconscious.
Cortni sprang into action to call Sasha's parents and to be by her friend's side. Sasha recalls waking up below the balcony. "I tried to stand up, but paramedics told me to be still."
An hour later at the hospital, the pain struck and after many tests, it was determined that Sasha suffered a burst fracture in her spine and was diagnosed with an L1 incomplete spinal cord injury. She needed an 11-hour surgery the next morning.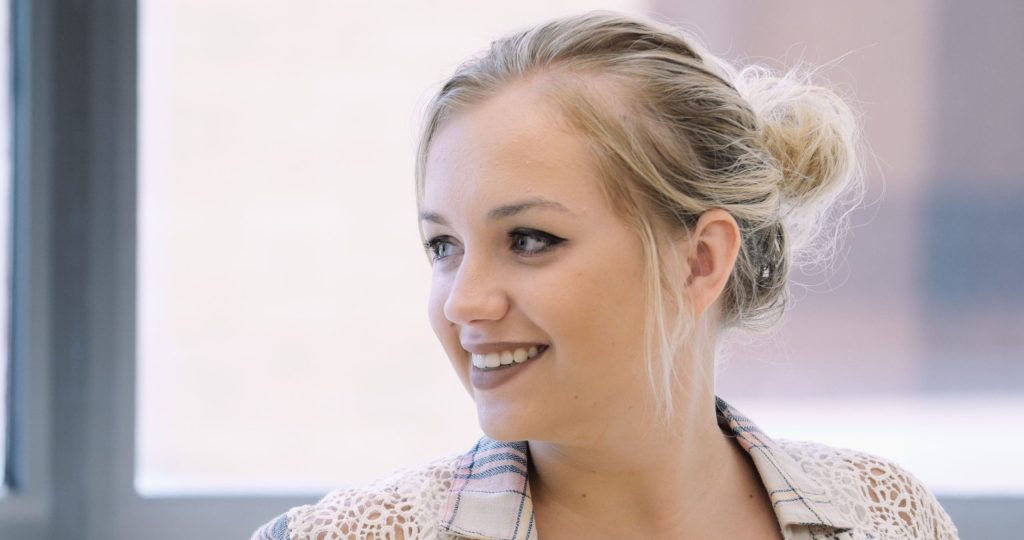 "The doctors explained to me that my spinal cord didn't break in half — it was still intact but a very exaggerated S-shape. I also had a very large bruise and swelling where my spinal cord ends and meets the peripheral nerves," recalls Sasha. "Bone fragments were all over the tissue in my back since it was a burst fracture — that's why it took so long, they had to get all of the bone fragments out and then they straightened my spine and put two rods in. They did the best that they could."
Sasha spent the first few days after surgery in the intensive care unit in a blur of pain and medication. It was after moving to the trauma unit that she had her first glimmer of hope. While still on bed rest, Sasha lifted her left foot, the first movement she made since her fall. Her surgeon was shocked — he wasn't expecting that so soon.
Two weeks after surgery, Sasha was transferred into the hospital's inpatient rehabilitation unit. The first thing her care team did was get her out of bed to stand – but she couldn't do it on her own without the help of people holding her. Sasha then started using Ekso almost daily. "That's when I began gaining more mobility and was able to stand longer," Sasha explains. "Especially when my accident first happened — I loved getting up to walk."
After a month, it was time to head home and start outpatient rehab to work towards her goals of getting stronger and walking independently again. During this time she used a walker in her house, a wheelchair in the community, and she continued using Ekso in physical therapy. Sasha noticed how the SmartAssist feature helped to train her weaker leg. "My PT would remove power from my left leg, my stronger side, so it wasn't helping me and then I would just work on my right leg."
"My favorite feature on Ekso is where it shows you how much work you're actually doing compared to the machine… "We're always looking at how we can make their lives easier." …I wasn't just able to feel that I was getting better, I had actual proof."
Throughout the four months that she used Ekso she was able to chart her progress, not only by the improvements she felt but in numbers, too.
"My favorite feature on Ekso is where it shows you how much work you're actually doing compared to the machine. At the beginning, it was helping me 95% and by the end it was 0% or close to 0%," Sasha explains. "I'm a very numbers oriented person — I love having numbers to show my progress whenever I get reevaluated; that's how I like to judge it. Having that on Ekso, I wasn't just able to feel that I was getting better, I had actual proof."
Today, just over a year after her injury, Sasha can walk. She still wears a brace on her foot but her balance has improved. She walks unassisted at home and uses a walking stick to help her get around outside.
Her message to others who suffer from a spinal cord injury: "Regardless of how you recover, the injury does get easier. I don't want people to get too sad in the beginning. The last thing I'd want is for someone to fall into depression. It's hard but look at all the good you have and try to appreciate that."
"There is so much technology and if you work at it, things do happen. Try to achieve your goals. Maybe you won't walk again on your own — each injury is different, but you may make gains in other areas. Keep trying and don't lose hope."
Sasha has returned to college part-time, with plans to increase her course load this fall. Her rehab journey continues with five days of treatment per week, helping her toward her goals of improving her balance and speed and getting rid of the walking stick completely.
To learn more about EksoNR, request a demo today.