We are honored to share an incredible story about our Patient Ambassador, Tarek Rasouli from Munich, Germany.
In the 1990´s, Tarek Rasouli was one of the best professional BMX and mountain bikers in the world. That had always been his goal. At the age of 9, Tarek would ride with his BMX bike and race with his friends at the Olympia park in Munich, with the intention to become the fastest on the BMX track in his age group. Driven by passion and ambition, he became a pro. He was the only European in the legendary Froride crew – the first pro free rider team of the bike brand Rocky Mountain. Tarek put all of his time and energy into being a pro athlete.
In 1999, at the age of 24, Tarek decided to quit BMXing and switch 100% to mountain biking. He joined the Rocky Mountain Freeride Team in the beginning of 2000. But instead of racing or just doing magazine shoots, he wanted to make it into bike movies.
In 2002, Tarek joined the production for the fifth Kranked movie in British Colombia, Canada. At that time, BC was the place to be, where standards were set in the world of mountain bike freeriding. The Kranked series was the benchmark for a professional mountain bike freeride athlete. Tarek had made an appearance in the fourth movie, which had positively impacted his career, so he was excited to head to Canada to film the fifth movie.
They were filming at Sun Peaks, a ski resort that had partnered with the film for one of its segments. After reviewing a few locations, builders began working on creating jumps within a snowboard halfpipe that was made of dirt for the summer. After filming at another location, Tarek and his friend and colleague, Johnny, went over to the halfpipe to check it out and trial it. Tarek was excited to try the jumps first, but he didn't take enough time and didn't check his speed in the run in. He overshot the landing and made a split-second, mid-air decision to let go of his bike. He fell from about 20 feet onto his feet. The impact broke his right heel and the first lumbar vertebra, which is in the lower section of the spinal column. He was instantly paralyzed from the waist down.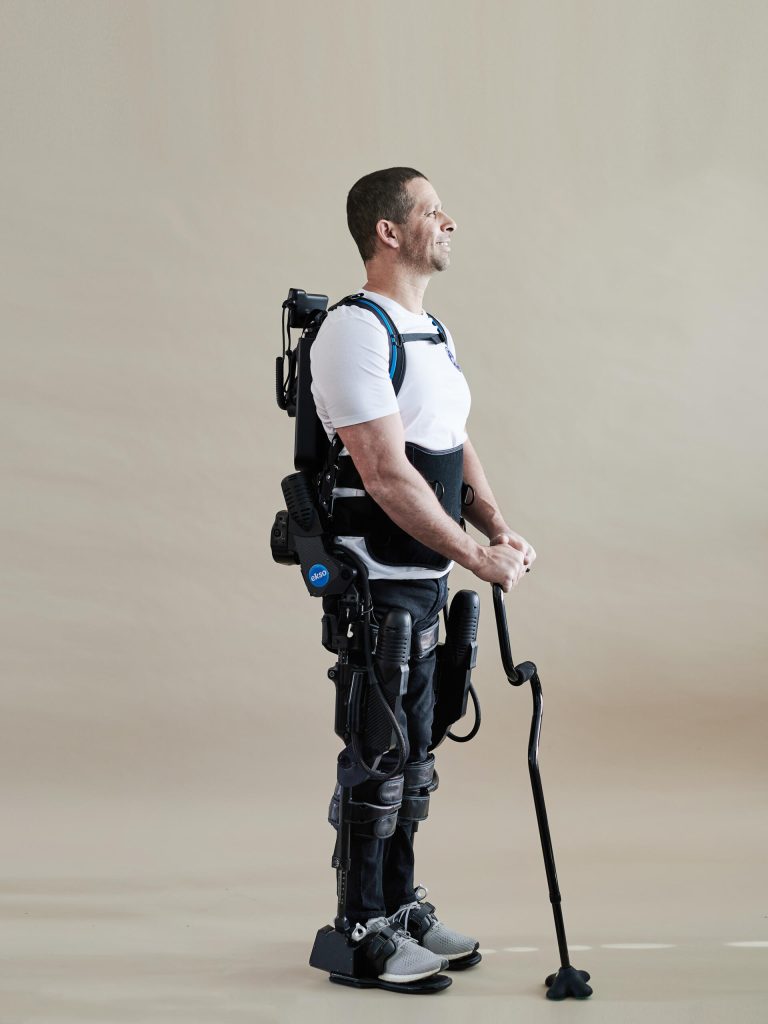 Despite the tragic incident, Tarek stayed in the bike industry and followed the opportunity to organize events. He co-founded the company "Rasoulution," an event and sports management company. The company organized mega-events like the RedBull District Ride, while also becoming the most valuable mountain bike athlete-management house there is. With riders like Danny MacAskill, Fabio Wibmer, Emil Johansson, Erik Fedko, and many more, Tarek has quickly made a name for himself once again.
In 2020, former motocross professional Hannes Kimnigadner invited Tarek to visit his rehabilitation sessions. Hannes had also been in an accident and had walked with Ekso several times. Tarek went for the visit and gave Ekso a try. The first time, he says he was very overwhelmed, but he wanted to try again.
Tarek initially used Ekso once per week but has since increased to two or even three times weekly of walking. He notes changes and progress in different areas from using the Ekso. Initially, he noted feeling changes in his glute muscles and low back. Prior to using Ekso, he reported having regular problems with his neck, but since initiating Ekso therapy, these problems have disappeared. Tarek says he feels "in general stronger to endure a long day in the wheelchair" noting that this increased endurance has helped his busy work life.
When asked how it feels to use Ekso, Tarek says "it just feels good, but it is also tiring, but in a positive way." He now recommends Ekso to others in order to help them stay healthy and live long, happy lives post injury.
In 2021, Tarek joined the Wings for Life World Run wearing Ekso, which produced a lot of media attention. He says his life is now busier then ever, but still finds time to use his handbike either outdoors or inside on a trainer. In October 2022, Tarek was inducted in the Mountain Bike Hall of Fame in Fairfax, California.
At Ekso Bionics, we are proud to support incredible athletes like Tarek and help them regain mobility and endurance. If you'd like to learn how Ekso could benefit you, please connect with us for more information.