Suffering from a traumatic brain injury can be a life-changing event. Depending on the complications, you could experience paralysis, brain trauma, or have to adjust to a completely different pace of life. Recovering from spinal cord injury, serious accident, or a stroke, usually requires many sessions of physical therapy at rehabilitation centers to learn how to walk again and get back to daily activities. The strain of recovery can also lead to challenges and different perspectives within the clinic setting.
Physical therapy is a journey that patients go through to regain motivation and the ability to go back to the activities of daily living. Therapists work one-on-one with clients to help them find this sense of hope. Luckily, innovators have come up with new tools and robotics to help with this recovery treatment. A partnership with medical exoskeletons can help shift perspectives and hit new milestones to help with patient endurance and speed of rehabilitation. A wearable robot offers individual freedom and gait training that gives spinal cord and brain injured or stroke patients a strategy and path to reach their full potential.
At Ekso Bionics, we work diligently to improve our exoskeleton technology so physical therapists can use our innovative wearable robots to help patients take their next steps towards recovery, literally. We believe in putting the power in the patients' hands and helping to challenge the physical limits and human capabilities in neurorehabilitation. Our powered exoskeletons can be the intervention you need to find success and take your rehabilitation centers to the next level and help more people than ever.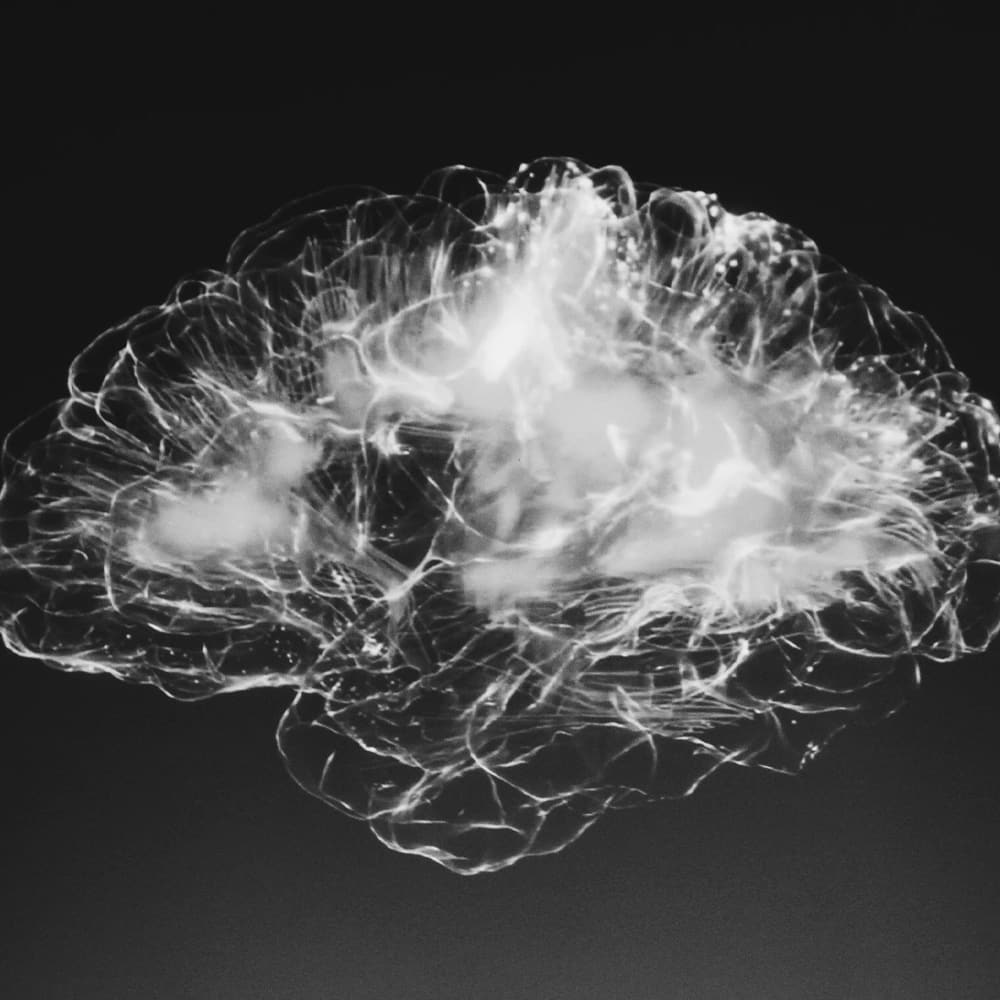 Reasons a patient may need neurorehabilitation.
Neurorehabilitation is all about helping patients relearn how their bodies should function after serious trauma. There are multiple reasons why a patient may need this assistance. After surviving a stroke or serious car accident, your limbs, muscles, and joints may not be ready for extensive use or have much endurance. Patients can experience fatigue after standing for a short time or they may have trouble with weight shifts or gait training. Rehab and physical therapy can help individuals regain these motor functions and lead to improved outcomes for the patient.
Consider mental barriers as well as physical ones.
Patients who have suffered a spinal cord injury, brain trauma, or a stroke are working to overcome physical limitations caused by their accidents. However, what many people may not realize are the mental barriers that these patients may also need to overcome. They may be carrying a heavy load of depression or anxiety because of the huge changes to their lives and the uncertainties involved in their situation. As clinicians or physical therapists, it's important to consider this perspective as well. How can you help rehabilitate the mind and the body? The best way to see significant improvement in rehab centers is by helping the patient find motivation, hope, and a sense of independence once again. We believe exoskeletons can contribute positively to these psychological benefits.
How Ekso bionics and EksoNR can help.
Ekso is proud to produce the only exoskeleton that is FDA-approved for medical use with brain injury and the first exoskeleton approved for spinal cord injury and stroke rehabilitation. As an industry leader in medical device products, our EksoNR design is a medical exoskeleton that allows patients to provide as much power as they can while only filling in the patient's deficit.. Other robotic technology is much more restrictive and doesn't include advanced features like added resistance and backwards walking. The EksoNR medical device works with the patients' joints to help the wearer gain confidence in their gait and walking improvements. Our wearable robotics are adaptable and offer real-time adjustments and posture support throughout rehabilitation. We designed the exoskeleton to help patients eventually walk without it. After all, a rehabilitative device shouldn't be necessary forever, as long as you can see actual results and improvements.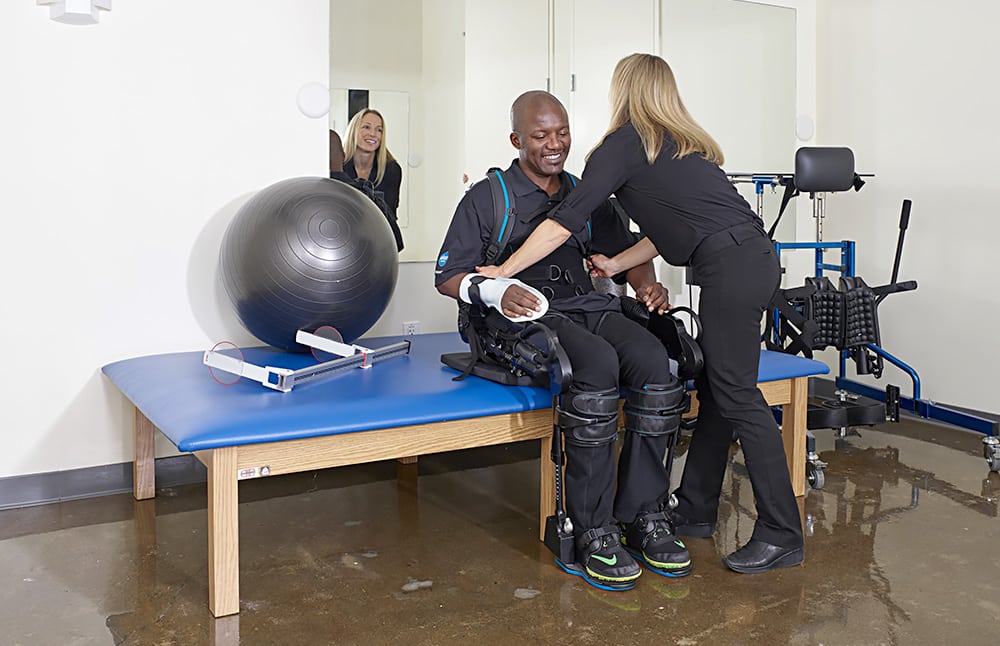 Putting the power back in patients' hands.
One of the best ways to increase potential benefits and help motivate your patients to find a perspective of optimism is to put the power back in their hands. A robotic exoskeleton works as a rehabilitative device with settings to ultimately challenge patients to regain their mobility. After working with a therapist and a wearable device at a clinical practice for a few rehabilitation sessions, your patient should be able to support their bodyweight for a longer duration, experience less muscle fatigue, and walk for a significant length of time without the dependence on an exoskeleton device. Not only does this help with patient progress for physical activities, but it can help patients feel confident and optimistic about their future once again.
Allowing for a challenge and gaining actual results.
The adaptability of robotic exoskeletons allows for physical therapists to challenge patients in new ways. The first time your patients use wearable robotics, it may help them focus on staying in a standing position and holding up their body weight for longer than they can without the EksoNR. Session two can be about taking a few steps. After multiple days in the rehabilitation institute, you'll see significant improvement for your patients as they walk hundreds or thousands of steps with minimal assistance from the power source. The advanced technology within the wearable exoskeleton allows you to adjust the assistance and walking parameters at any given moment. By challenging your patients, you'll see actual results and help the human body reach its full potential.
But don't just take our word for it, check out this story about a young lady whose life has been changed thanks to Ekso Bionics. Kylie was injured in a serious accident that left her in a coma. Working with Ekso allowed her to grow and adapt to her new lifestyle. After only a few rehabilitation sessions with the exoskeleton system, she was able to take over 1,000 steps with a more natural gait. Her team of doctors and therapists spoke to the benefits of EksoNR helping her find optimism, focus, and motivation. These robot suits offer help with a physical disability, but also give new perspectives and encouragement as well.
Take the next steps with us.
If you think an exoskeleton device may be a great new technology for your rehabilitation institute and clinical use, check out our robotic exoskeleton today. Our company's technology is helping stroke survivors, accident victims, and individuals with spinal cord injuries take their next steps toward healing, literally and figuratively. Our smart assist software can help you see greater improvement in the lives of your patient population. Don't let neurologic conditions stop your patients from a great quality of life. See how wearable robotic exoskeletons can make a difference in your clinical practice.