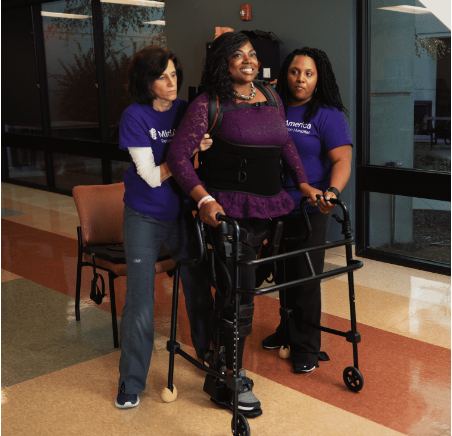 As a mother of three active boys and working three jobs, it's no secret that Amelia Clark, at 38, is a hard worker.
With no time left in her day to be ill, it was an unwelcome surprise when she started to feel sick at her local salon. Developing a sudden headache, she was soon unable to stand or walk. Emergency services were called, as Amelia remained baffled as to what was happening to her.
After she arrived at the emergency room, Amelia learned she had suffered a right-sided stroke. The process of stabilization began right away, preparing her for a move to rehabilitation a week later. Amelia chose to go to MidAmerica Rehabilitation Hospital because it had earned The Joint Commission Disease-Specific Care Certification in Stroke Rehabilitation.
Upon admission for rehabilitation, Amelia's MidAmerica team and staff members welcomed her with warmth and care. As she moved forward on her new journey, Amelia's therapists went to extra lengths to make sure she felt safe and comfortable. For extra motivation, she leaned on support from her mother, children, church family and friends. She remained positive and smiled, inspiring other patients to do the same. She even created a rap song about her experiences and MidAmerica to help her and others feel empowered on the road to recovery.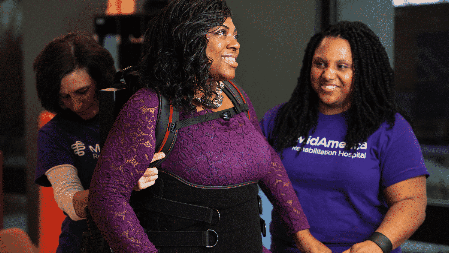 Certified Rehabilitation Registered Nurses took the time to explain the changes she was experiencing after her stroke and assured her she was in the best place for recovery.
As part of a comprehensive rehabilitation program, therapists used advanced technologies like Biodex FreeStep and Bioness to elevate her progress. They also used the cutting-edge Ekso to promote early mobilization.
"The technology at MidAmerica Rehabilitation Hospital was amazing," Amelia said.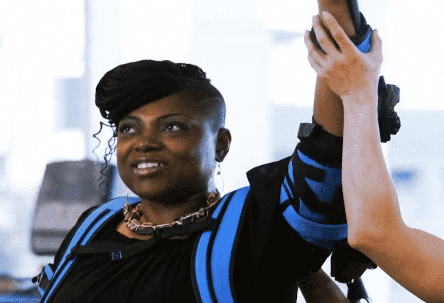 After 38 days of her commitment to a positive outcome, Amelia was discharged home, walking on her own with a hemi walker. She can now drive and is active in educating others on her story. Amelia has started a stroke support group called SSS, which means stroke surviving sisters.
"Now, in outpatient, my therapists are kind and patient, but also challenge me. MidAmerica Rehabilitation Hospital is now my family."

Amelia is the newest Ambassador for Ekso Bionics, using both EksoNR and EksoUE in her stroke recovery. Learn more about Amelia's story in this video. 

To learn more about EksoNR, request a demo today.