Every year, 55.9 million people suffer from an acquired brain injury (ABI), which is any injury to the brain that is not hereditary, congenital, degenerative, or induced by birth trauma. 15 million suffer from strokes, or cerebral vascular accident (CVA)—the fifth leading cause of death in the United States and a major cause of long-term disability. A stroke results when part of their brain is deprived of oxygen caused by a blood clot blocking blood flow or by a rupture in the artery feeding blood to a part of the brain. Up to 500,000 people suffer from spinal cord injury (SCI), classified by decrease or complete loss of sensation and/or movement below the level of injury.
As a result, those with an ABI, CVA, or SCI may be left with limited mobility or some form of paralysis. This can be a devastating diagnosis that is completely life-changing for patients and their families.
Human robotic exoskeletons offer a new, promising approach to restoring mobility after such injuries. Health experiences including regained mobility, as well as improved oxygen intake, bowel and bladder function, joint maintenance, circulation, and easement of pain have been shown in patients using robotic exoskeletons. With the use of human robotic exoskeletons, patients who are working with physical therapists can regain basic movements or even develop the ability to walk again independently.
What are Exoskeletons?
Robotic exoskeletons are wearable devices made of mechanical and sometimes electrical technologies that are used to enhance the physical performance of the wearer or act as orthotic devices for gait rehabilitation or locomotion assistance. Depending on the purpose they serve, human robotic exoskeletons can be made from materials such as carbon fiber and metal, or they can be made entirely out of soft and elastic parts. Some exoskeletons need to be tailored to the individual that is using them and have adjustable hardware to fulfill that need. Overall, the technology behind the exoskeleton depends largely on its type and function.
Exoskeletons can be considered powered, using technology like sensors and actuators, or passive, using purely mechanical parts. The electronics with which powered exoskeletons are equipped register how much force is being applied to any given action, allowing the exoskeleton to share some of that burden with the user. Passive exoskeletons take the weight from the body's extremities and distribute it to the core or leg muscles, spreading the weight out to relieve pressure from the targeted body part. This prevents fatigue from occurring as quickly and lowers the chances of strain or injury.
Groups That Benefit From Exoskeletons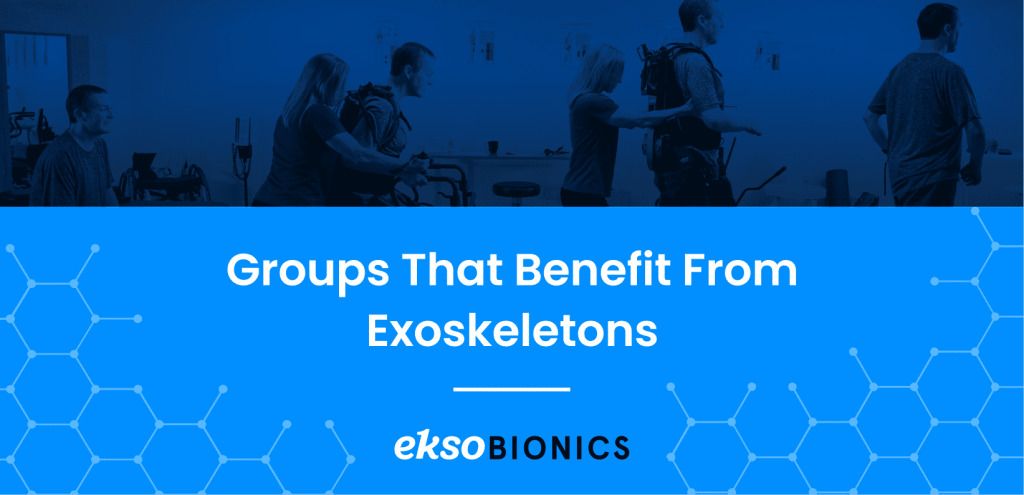 Human robotic exoskeletons can be used for the purpose of health, industrial labor, and military research and development. For health, exoskeletons can be used to restore someone's limb functionality and help them to walk again.
Instances of health-related applications for exoskeletons include stroke, spinal cord injury, acquired and traumatic brain injury, muscular dystrophy, cerebral palsy, orthopedic injury, Guillain barre, brachial plexus injuries, multiple sclerosis. These diagnoses can result in a range of impairments including monoplegia, hemiplegia, paraplegia, quadriplegia, ataxia, and other weaknesses. Benefits of exoskeletons used in the healthcare field include: increased user independence, decreased chronic pain, reduction of energy required for movement, increased range of motion and endurance, increased quality of life, and more.
Patients with lower extremity mobility loss can enlist the help of lower body exoskeletons to address gait inefficiencies by supporting the spine, trunk, and legs including hip, knee, and ankle joints. In this instance, the exoskeleton promotes correct movement patterns in all phases of physical rehabilitation and challenges patients as they progress towards walking back into their communities.
Patients with upper extremity mobility loss can wear upper-extremity exoskeletons designed to assist their affected shoulder and arm during rehabilitation, resulting in rehabilitation sessions with a higher dosage, more intense therapy, and a wider active range of motion. An exoskeleton can provide access to the shoulder joint and scapula to help therapists facilitate movement while the device supports the patient's arm with minimal interference, allowing for a natural motion.
For patients with acquired brain injury and stroke, lower-extremity robotic exoskeletons are utilized by physical therapists to improve patients' orientation to midline, weight shift, stepping quality, and lower extremity muscle strength. These exoskeletons utilize the principles of neuroplasticity to help physical therapists deliver high quality, intense, repetitive, task-specific practice to patients on their journey of reclaiming independence.
Patients with spinal cord injury exhibit a wide range of potential symptoms including: extreme pain in the neck, back, or head, urinary or bowel urgency, retention, or incontinence, abnormal band-like sensations in the thorax, impaired breathing, weakness or paralysis in upper and/or lower extremities. The use of a robotic exoskeleton can help to significantly alleviate these symptoms or, in some cases, eliminate them. The patient wears a backpack-like support which connects to robotic leg-support structures and attaches comfortably to the waist, hips, legs, and feet. This helps to support the body and protect joints during preGait and gait training.
Those who suffer from loss of mobility after a stroke or ABI can wear a robotic exoskeleton, which provides therapists the opportunity to retrain their muscles and brains to regain lost mobility. This has proven to be successful in helping thousands of patients leave their wheelchairs or walkers behind. The 2022 clinical trial (WISE), performed by The International Spinal Cord Society, focused on a 12-week exoskeleton-based robotic gait training regimen to track clinically meaningful improvement in independent gait speed among participants with chronic incomplete spinal cord injury (iSCI). The results showed that the proportion of change in the clinical ambulation category was highest among participants in the group using exoskeletons developed by Ekso Bionics. 5 of 9 participants in the "Ekso group" exhibited the greatest change in ambulation status. In comparison, only 3 of 10 within the Active Control group showed improvement in the ambulation category, and 0 of 6 in the Passive Control group displayed any meaningful change (between group difference in proportions p < 0.05, Table 5).
For the prevention of injury rather than recovery from it, those working in industrial settings such as construction and manufacturing benefit significantly from exoskeleton technology. For industrial application, exoskeletons are designed to increase productivity and reduce fatigue, with the goal of eliminating work-related injuries to the neck, shoulder, and back.
Types of Mobility Exoskeletons Target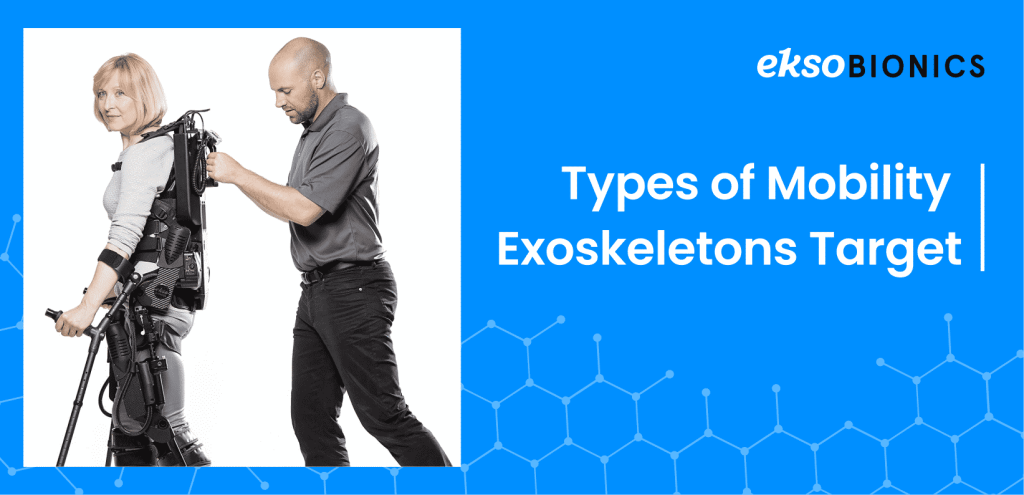 Exoskeletons can target mobility nearly anywhere on your body—your ankles, knees, shoulders, and so on. They are generally divided into two segments: lower body and upper body.
Lower body exoskeletons are engineered for patients suffering from lower extremity paralysis or weakness and offer postural trunk support as well as support at the knee, hip, and ankle. In doing so, they may help the wearer regain their natural walking ability.
Upper body exoskeletons are designed to assist a patient's affected shoulder or arm and have been a revolution in upper limb rehabilitation. Engineered for patients suffering from upper extremity paralysis or weakness, upper exoskeletons help patients recover strength, endurance, and range of motion.
7 Ways Exoskeletons Help Regain Mobility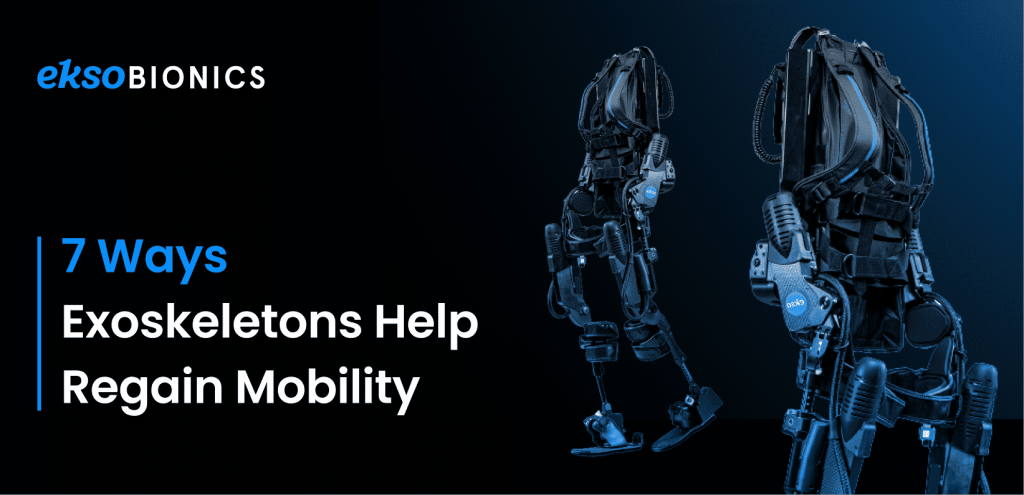 Posture support
Posture has a significant impact on movement patterns and is directly correlated with a person's ability to walk. A rigid component on the back of an exoskeleton offers support for patients with decreased trunk control. This helps them bear their own weight with proper postural alignment for maximized treatment time. Your posture is a central part of your body's functionality, affecting the way both your upper body and lower body move, so this level of support is non-negotiable when it comes to regaining mobility.
Adaptive Gait Training
Sensors and software components of the exoskeleton continuously monitor and regulate leg movement. If a patient is leaning, the exoskeleton will automatically detect it and provide feedback that their physical therapist can use to help improve their balance and gait. The device and therapist work in conjunction to keep patients from compensating to avoid discomfort and achieve faster results.
Pre-ambulatory tools
It's commonly known that balance plays a big role in maintaining successful mobility. If you're struggling to keep your weight centered, walking is going to be a challenge to say the least. The pre-ambulatory tools are a suite of programs dedicated to helping patients balance, weight shift, squat, and step in place before walking. The squat function can also be used as an advanced feature to challenge patients in strengthening lower extremities.
Feedback
Resuming natural step length and swing symmetry is one of the most common goals in rehabilitation. Without proper symmetry, walking is possible. However, loss of symmetry would make walking difficult, could delay progress, and require an uncomfortable amount of effort to achieve movement. Real-time feedback helps patients regain proper step length and swing symmetry in hopes of restoring their ability to walk naturally and with ease.
Data
Regaining mobility shouldn't be a guessing game. In order to make the necessary improvements for resuming natural mobility, a patient needs to be able to build on successes and correct any irregularities. Data tracking allows for this by showing session-specific walking time, distance, and speed in addition to symmetry, securely saved to a cloud-based dashboard for easier analytics. With smart data capture and clinician controls, medical professionals can evaluate patients and their training sessions in real-time to best help each individual on their road to recovery.
Assisted Motion
By providing the proper support, exoskeletons can boost the range of motion being used to regain mobility. For example, the Ekso Bionics upper-extremity exoskeleton offers assistance to the shoulder and arm on all planes. As a result, the patient can exercise 180 degrees of motion where they otherwise may not be able. It also allows for a more natural movement pattern by supporting the limbs with minimal interference.
Robotic Powered Movement
With powered exoskeletons, the robotic power itself can drive significant results in the process of regaining mobility. The bionic components can provide total support and trajectory assistance for patients with complete paralysis. Patient-initiated movements can be used to encourage muscle activity for those with remaining strength and the sensors will register that initiation and assist the patient in carrying out the movement – only as much as the patient requires.
Alternative Methods of Treatment Alongside Exoskeletons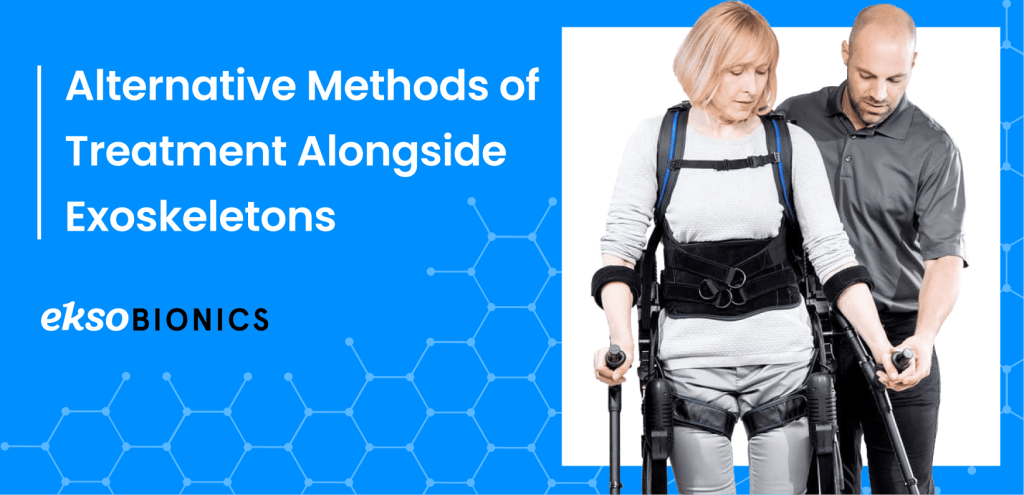 Depending on the diagnosis that led to a loss of mobility, there are a number of different kinds of treatment approaches that your physical therapist may use in conjunction with the use of exoskeleton technology to aid in the rehabilitation process.
Individuals with loss in mobility due to disease or an injury sustained by the nervous system may need a physical therapist who specializes in neurology to evaluate and contribute to a full recovery.
Elderly patients, whose mobility is declining due to age, may benefit from geriatrics in addition to their exoskeleton treatment. Likewise, adolescents with inherited illnesses or injuries should supplement their exoskeleton treatment with physical therapists who specialize in pediatrics. There are also specialized therapists for sports-related injuries and women's health.
Why Choose Ekso Bionics Exoskeletons?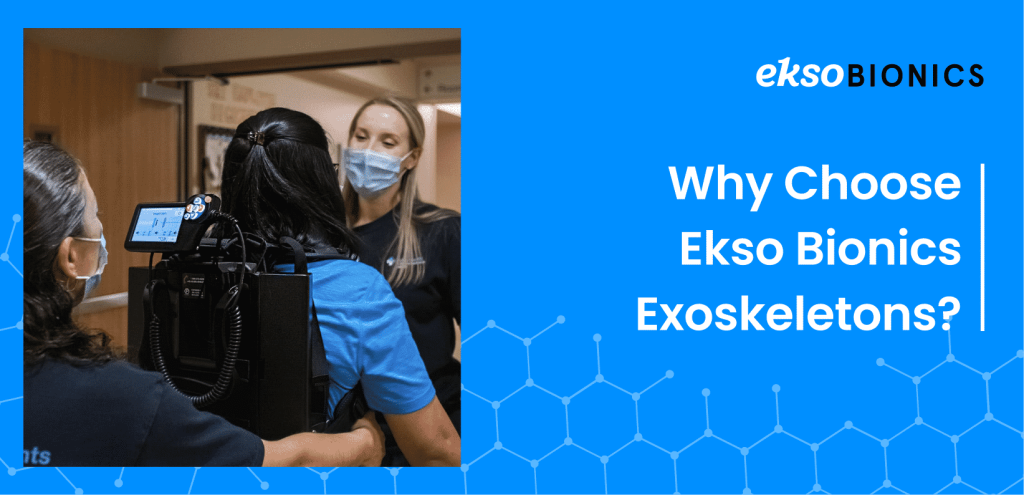 Since 2005, Ekso Bionics has used exoskeleton technology to enhance natural abilities and improve quality of life. We are the leading exoskeleton company to offer technologies that help those with paralysis stand up and walk, enhance worker capabilities globally, and provide research for the advancement of R&D projects intended to benefit U.S. defense capabilities.
As the first exoskeleton FDA-cleared for acquired brain injury, stroke, and spinal cord injury, EksoNR offers the industry's most natural gait, re-teaching the brain and muscles how to properly walk again.
Conclusion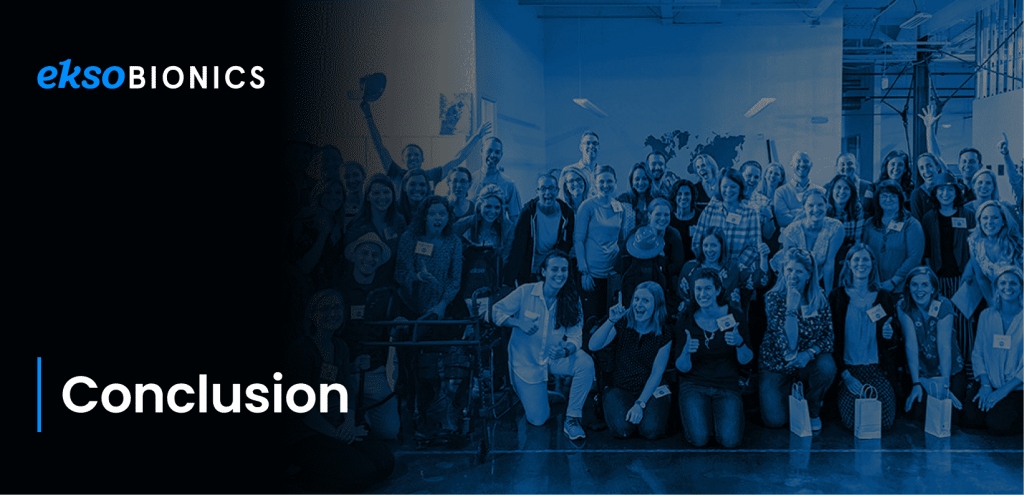 If you or a loved one is suffering from imparied mobility after a stroke, brain injury, or spinal cord injury do not hesitate to get the best possible care. Consider the pros and cons of using human robotic  exoskeletons in the rehabilitation process and do your research to find out if they are right for you.