It can be one of the scariest things in the world to wake up from an illness or injury and realize that natural motor functions have been compromised. Serious spinal cord injury, strokes, or brain trauma can cause issues with paralysis or loss of function that may affect a patient's overall quality of life. Ekso Bionics is committed to giving that sense of freedom back to patients with wearable robotic exoskeletons that can increase mobility and help patients get back on their feet in no time.
EksoNR© is a uniquely designed exoskeleton that works with the wearer to help regain natural movement, find their balance, and begin walking long distances. This leading technology is helping physical therapists and rehabilitation specialists aid patients post stroke, brain injury, and spinal cord injury in many different ways. This rehabilitation tool is helping individuals conquer their disability and get more personal freedom back. There are plenty of unique features about EksoNR exoskeleton that help patients increase their mobility in revolutionary ways.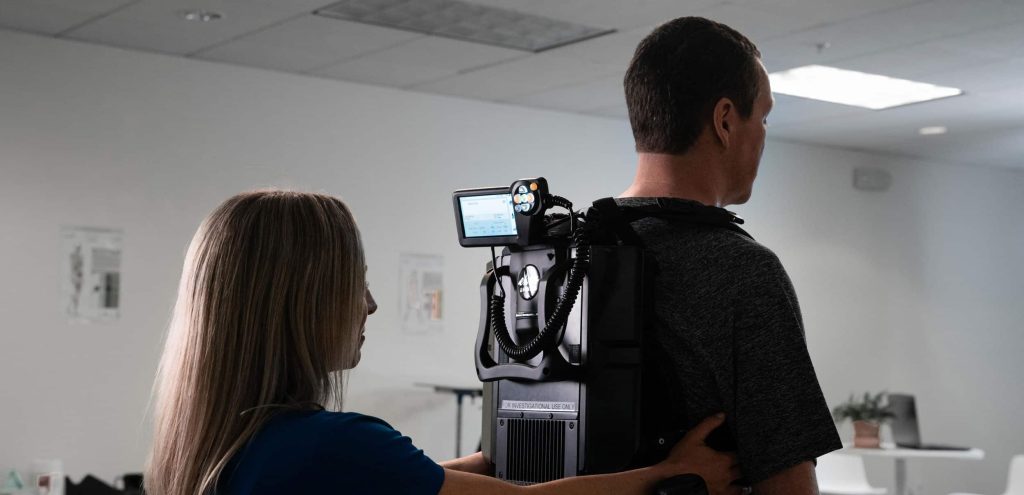 Who benefits from EksoNR?
EksoNR is designed specifically for neurorehabilitation. In fact, EksoNR is the first medical exoskeleton that is FDA cleared to treat stroke, spinal cord injury (SCI) and acquired brain injuries (ABI). At this point in time, this is actually the only FDA cleared exoskeleton to be used as a clinical rehabilitation tool for ABI. Clinicians across the globe find that this wearable device benefits their patients while going through rehabilitation.
As patients relearn how to walk and regain their motor functions, the exoskeleton gives them support without becoming a long term crutch. The exoskeleton robot can adjust to most patients' bodies and work in a number of different ways. Overall, the physical therapist will be able to control the interface between the rehabilitation device and the patient to help them get back on their feet sooner.
Work with the wearable robot to improve natural function.
EksoNR is revolutionizing the game when it comes to rehabilitative devices. While powered exoskeletons have been around for a while, our specific exoskeleton technology works with patients to meet them at their current stage of recovery. These aren't assistive devices or crutches that are relied upon for an extended period of time. This wearable robot will only give the limbs the amount of support they need, allowing a patient's muscles to relearn certain motions and get used to bearing weight and balancing. Therapists can adjust the robotic device in real-time so each weight shift starts to feel more natural and eventually the patient gains strength to take over. EksoNR, a critical rehabilitative tool, will require your patients to be active participants in their recovery.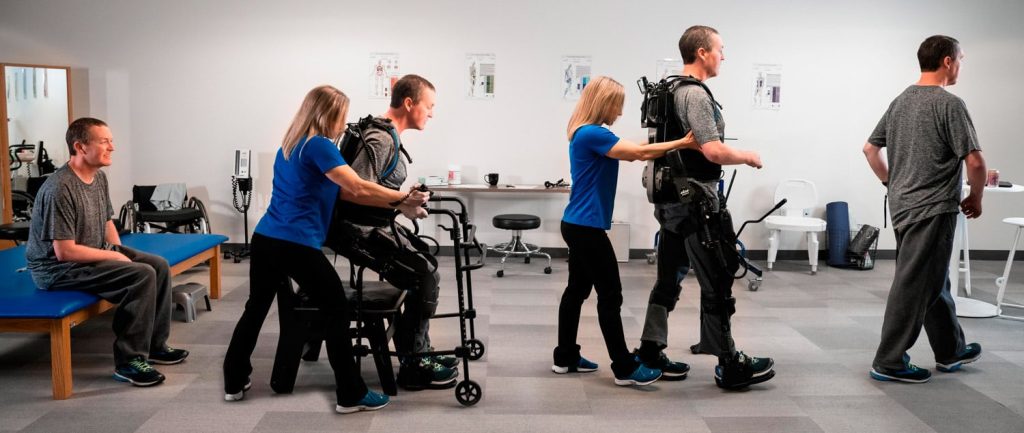 Help with walking speed, gait, and consistency.
Every person has their own unique way of walking. Some may take wide steps while someone else's gait is more narrow. Working with EksoNR exoskeleton, patients get to improve their personal mobility through consistency and repetition. The medical exoskeleton is designed for specific, rehabilitative use. With the help of specific algorithms and data analysis, the wearable robot will adapt to each patient's body. A patient won't be adapting to the exoskeleton, rather the robotic technology will work with their body specifically and adapt to them. From help at the torso, hips, knee joints, and more, this exoskeleton design makes a natural gait and longer walking distances more accessible than ever before.
Rehabilitation happens at each patient's pace.
The beauty of EksoNR is that it helps with every step of the rehabilitation process. The same device that helps stroke victims relearn how to stand upright will also help that individual when it comes to taking their first step or walking down the hallway. EksoNR exoskeleton will be the same wearable robot that they'll use on their future visits to the rehabilitation center. From standing and sitting to gait training, these rehabilitation robots work at each patient's pace and help them get back to many different activities of daily living.
The personalized design is revolutionary.
When you hear about powered exoskeletons, chances are you picture bulky suits that may bring discomfort to your patients. This is not the case with Ekso Bionics' exoskeletons. The design is revolutionary and removes any major limitations for your patients. The exoskeleton design allows patients to strap in without worrying about bearing extra weight as they work. In a way, this is a control strategy. The personalized design makes it easier for patients to forget they're even wearing an exoskeleton. They can start to gain confidence in their own lower extremities as they gain momentum in their rehabilitation. Thanks to the design, these robotics work directly with patients to help them see improvements in their mobility more quickly than ever before.
Ekso is available worldwide.
While Ekso Bionics is based in California, the company is committed to reaching patients and physical therapists across the globe. From the United States to Australia, patients are getting the important treatment and hope that they need thanks to these wearable exoskeletons. Not only is this technology helping with the mobility of patients with chronic stroke, brain or spinal cord injury, it is mobile throughout the rehabilitation communities.
Hear some inspiring stories of how robot exoskeletons are changing lives.
Royal Rehab is the first rehabilitation center to bring this life-changing technology to Australia. This medical exoskeleton technology is helping patients from all walks of life with differing forms of paralysis gain more mobility than they ever thought possible.
One featured patient named Alex was injured in a sports accident as a teenager and was left in a quadriplegic state. Thanks to the exoskeleton, he is up and walking and regaining a sense of normalcy in his life.
Ken is another patient with an inspiring story. He was paralyzed at age 21 from an infection on his spinal cord. After decades in a wheelchair, he first started using EksoNR in his 70s. Ken is now able to walk again and has increased his walking distance and speed in just a few short weeks. This technology is shaping the lives of so many patients around the world. Imagine how it can help your rehabilitation center.