Many people with spinal cord injury (SCI) experience some kind of paralysis or weakness. They are often told that they will never regain their mobility.
‌However, our wearable robots have proven many of these assumptions wrong. By providing physical support to patients' limbs and joints when they are relearning how to walk during the rehabilitation process, our wearable robots can give people who have experienced an SCI a sense of freedom as they regain mobility.
‌Our wearable robots train patients to walk as naturally as possible, rather than having them follow a more robotic gait pattern as with some exoskeleton suits. They also aim to improve and develop walking endurance and posture without harming or stressing other joints and muscles.
‌Ekso is available in more than 30 countries around the world and has helped thousands of patients take more than 130 million steps.
‌If you are interested in learning more about Ekso as one of the rehab options for spinal cord injury, contact a center near you to get started. Note, however, that our wearable robots are not for personal or home use and are available only in certified rehabilitation centers. This is to ensure that Ekso's wearable robots are used safely and properly.
‌Find out more about how to rehabilitate SCI with our wearable robots below.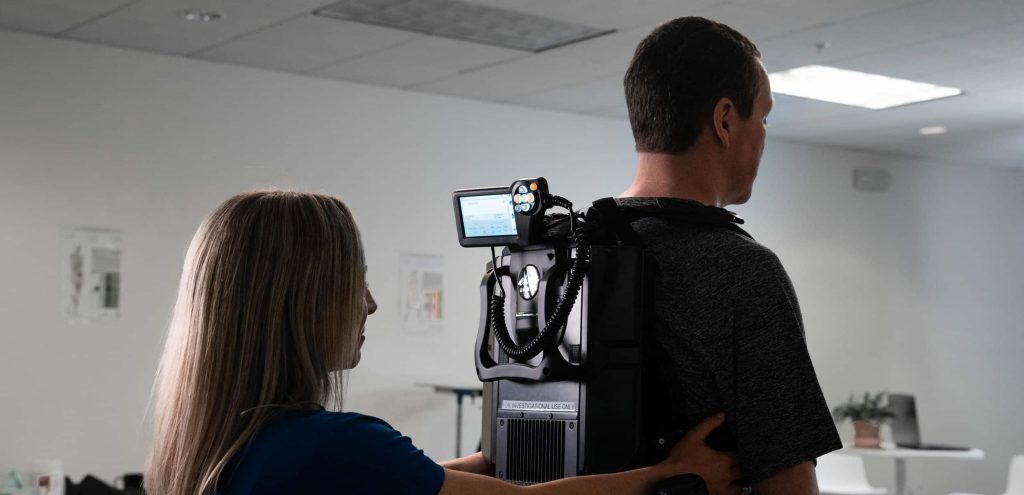 EksoNR©: Our Lower Extremity Exoskeleton
EksoNR© is our lower extremity medical exoskeleton and one of our rehab tools for spinal cord injury. The only exoskeleton to be cleared by the FDA for use on patients with SCI, stroke, and acquired brain injury, EksoNR is an effective way of retraining the muscles and reteaching the brain to walk.
‌With the help of EksoNR, patients will learn how to balance and walk again during rehabilitation after SCI. EksoNR also comes with powerful technology that calculates gait inefficiencies, which will help clinicians and physical therapists set goals and record patient progress.
‌Unlike some other exoskeletons, EksoNR promotes brain plasticity by challenging patients through active participation. Attaching comfortably to the thighs, hips, and waist, EksoNR is designed to be used with many different body shapes and sizes and fits patients under 220 pounds who are between 5 feet and 6 feet, 4 inches.)
EksoNR has the following features:
Data capture. Allows viewing of session-specific walking time, speed, and distance. All data is saved onto a cloud-based dashboard.
Long-lasting. Comes with two sets of rechargeable lithium-ion batteries, allowing for continuous use.
Clinician control. Provides real-time modification of assistance levels for each leg based on session feedback and patient goals. It also sets training targets.
SmartAssist software. Allows customization of motor support during swing and stance phases of walking for different levels of impairment, from full assistance to patient-initiated movement.
Adaptive gait training. To minimize compensatory gait patterns, software and sensors constantly regulate and monitor leg movement.
Posture support. EksoNR offers posture support with a high, rigid back and helps patients bear only their own weight with proper postural alignment.
Pre-ambulatory tools. EksoNR comes with preGait, a set of programs that help patients balance, step in place, squat, and weight shift before walking.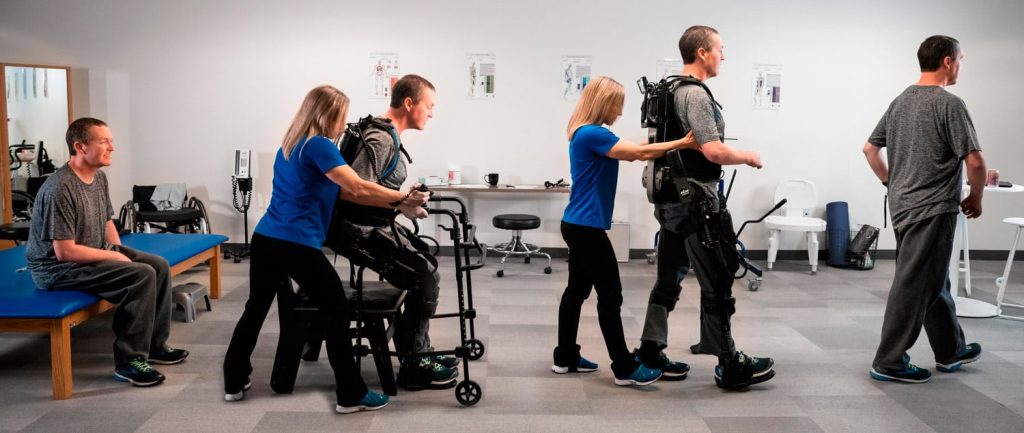 EksoUE©: Our Upper Extremity Exoskeleton
EksoUE© is an upper extremity wearable exoskeleton that fits snugly over the arm and shoulder. It gives patients a wider active range of motion with assistance in all planes.
‌Designed for patients with extremity weakness or paralysis due to SCI and other injuries, EksoUE helps patients recover and build strength, range of motion, and endurance. Lightweight and mobile, EksoUE can be used while sitting, moving, or standing.
EksoUE has the following features:
Manual therapy access. Helps therapists facilitate movement by providing access to the scapula and shoulder joint.
180 degrees of assisted motion. Allows the patient to have a wider, more varied active range of motion and assists in all planes.
Natural movement pattern. Allows for more natural movements than traditional therapy or other devices by supporting the patient's arm with minimal interference.
Multifaceted use cases. Can be used while moving around, standing, or sitting. EksoUE is not connected to static equipment, so it can be worn while doing daily activities, with other technologies, or gaming.
Fully mechanical operation. Instead of being powered by batteries, EksoUE is spring-powered, allowing for continuous use without recharging.
Increased workload. With EksoUE, patients can tolerate higher therapy dosages for longer periods.
Adaptable ergonomics and assistance. Adaptable and easily reconfigured for different patient sizes and ability levels.
Easy to set up and use. Includes a self-guided online course for therapists consisting of modules on both able-bodied individuals and patients.