Many people with an acquired brain injury (ABI) are told they will never walk again. Fortunately, our newly developed, cutting-edge wearable robot EksoNR© has allowed many patients with ABI to regain their mobility.
‌EksoNR is a mechanized exoskeleton that aligns with the wearer's anatomy to provide the support and assistance they need during rehabilitation. EksoNR is the first and only exoskeleton for ABI rehabilitation to be cleared by the FDA. It fits snugly over the patient's legs, feet, hips, and waist to support their weight and joints.
‌Designed by clinicians for clinicians, EksoNR is the most widely studied rehabilitation exoskeleton available. As of July 2020, there are 74 completed clinical research studies and countless publications and white papers involving EksoNR. These studies contain the personal experiences of more than 1,800 participants around the world.
‌Read how EksoNR has helped one of our users regain her mobility and walk again.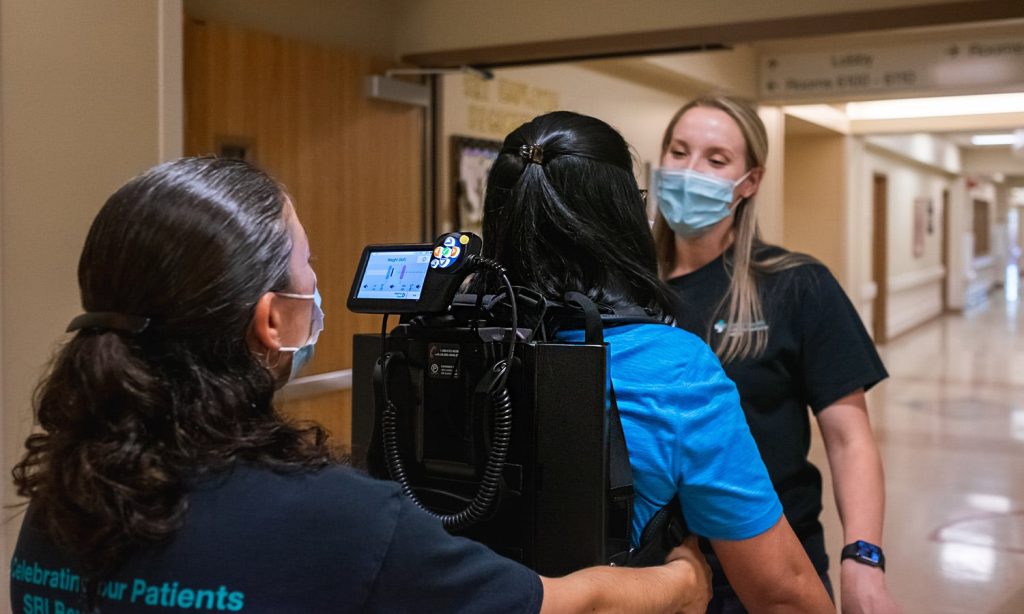 Kylie's Rehabilitation
After Kylie was injured in 2019, she went into a coma. According to Dr. Kenneth Shapiro, who specializes in Physical Medicine and Rehab, her condition was serious. She had an ABI in addition to multiple internal injuries. She recovered consciousness and soon began physical therapy. Kylie was able to regain amazing levels of self-initiated movement with the help of the EksoNR bionic exoskeleton.
‌Her physical therapist, Erin, related that Kylie regained much of her mobility using the EksoNR exoskeleton. "In the first session, we took maybe ten steps," Erin shared. "And now she's walking over 1,200 steps." This sort of progress is spectacular in patients with ABI injuries. Considering the extent of Kylie's injuries, this may not have been possible without EksoNR.
‌EksoNR has helped Kylie maintain her muscle condition and start walking again using the power of brain plasticity. With Erin's guidance, Kylie worked on vital skills including shifting her weight, balancing, and improving her lower extremity muscle strength while wearing the device. As her gait became stronger and more confident, Kylie shifted from relying on EksoNR to using her own muscles to walk. Eventually, she only relied on EksoNR to correct any errors she madewhile walking.
How Does EksoNR Help ABI Patients Regain Their Ability to Walk?
Kylie's story is a great illustration of how EksoNR can help people with ABI to stand and walk again.
Unlike many other exoskeletons, which provide all or nearly all of the power needed to walk, EksoNR is designed to challenge patients. With its high, stiff back and various progressive modes, EksoNR requires active participation in the rehabilitation process, so the patient can:
Learn the most efficient and highest quality gait pattern
Develop a natural gait with secure practice
Improve their functional balance
Improve gait speed
Improve walking distance
The following features also make EksoNR for ABI the ideal choice for patients to learn to walk again:
Unique design helps the patient focus on movement and balance
Data capture allows the physical therapist and patient to view session-specific speed, walking time, and distance. This information is saved securely in cloud storage for reference and analytics. It can be used by the physical therapist to provide personalized care.
Clinician control lets the physical therapist set training goals and modify EksoNR's support and assistance levels for each leg
Adaptive gait training uses software and sensors to regulate and observe leg movement to promote gait development and strengthening
Pre-ambulatory tools such as PreGait help patients balance, squat, weightshift, and step in place before walking
SmartAssist software helps the physical therapist customize motor support depending on the patient's impairment level.

This featured function allowed Kylie to move from full assistance to patient-initiated movement as she regained strength and coordination

Posture support allows for easier and faster recovery by helping patients get started on their gait training sooner
Physical therapists can also use EksoNR at any stage of outpatient or inpatient rehabilitation.
Edward Cruz, a physical therapist at the University of Texas Southwestern Medical Center, recounted Kylie's case. He believes EksoNR is "a good intervention for early mobilization [that taps] into neuroplasticity expediently and more successfully," compared to the body-weight support treadmills physical therapists often use for patients with ABI.
Learn More about EksoNR
To learn more about how EksoNR can help patients with ABI improve their gait and regain their mobility, request a demo for your practice.
‌EksoNR is only one of the many wearable exoskeletons that Ekso Bionics has developed for rehabilitation. Contact us today to learn more about how we can help your practice.