[The following is condensed from the full webinar of Dr. Crissy Voigtmann and Dr. CJ Curran.]
While EksoNR (the first FDA-cleared exoskeleton for ABI, stroke and spinal cord injury) is a technological advancement that has changed the way patients with stroke experience rehabilitation, it is not without its own difficulties. The Institute For Advanced Rehabilitation (IFR, Orlando Health), has been partnered with Ekso Bionics since 2019. Dr. Crissy Voigtmann and Dr. CJ Curran utilized EksoNR with certain patients and found some difficulties that they were not at first prepared for.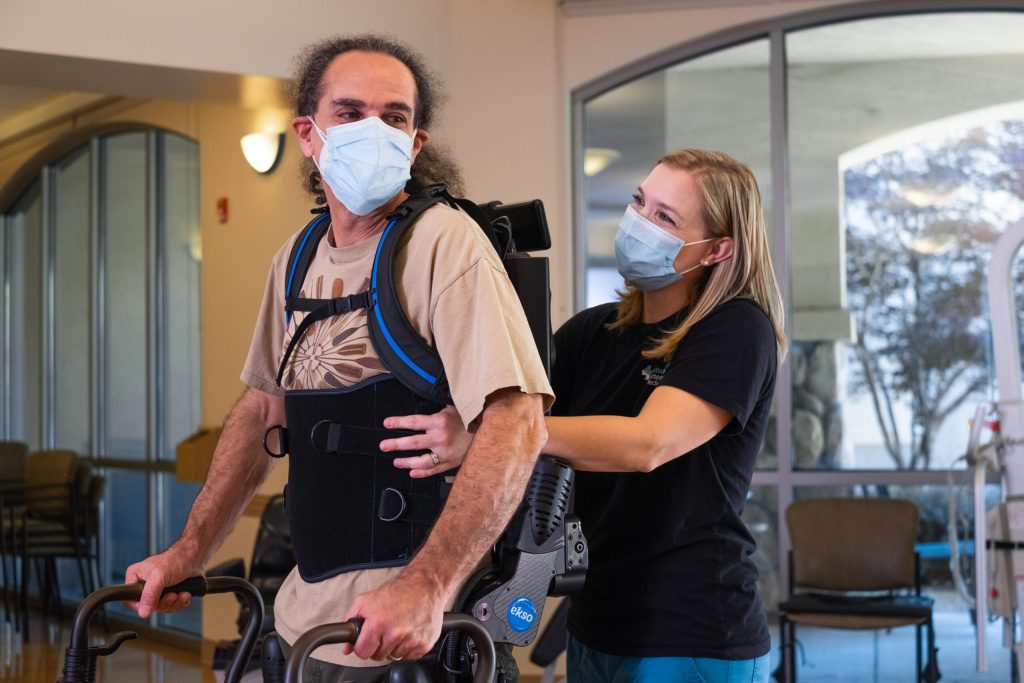 The Generation Gap
With stroke comes increased age. Typically speaking, some of the older individuals are not as comfortable with technology. It becomes very apparent once they get into EksoNR and they're fearful. Their anxiety can become a pretty significant barrier to try to get them acclimated to this level of technology. Not only that, but also from a deficit standpoint, individuals that have attention deficits or engagement deficits just want to go along for the ride once they are in the suit, and it can be really tough to get them to actively engage in the process of their rehabilitation.
The patients are motivated, they want to do it, but as they tried to convey what the suit is capable of or what the progression looks like, some of the patients really struggle to grasp what that next step is or what that progression will be.
Another element that caught them off guard initially was incontinence. A lot of patients have not been up against gravity for an extended period of time in a while. That has been something that they have prepared for now, and especially in advance, before they even start the session(s).
How do you fix the challenges that patients face with EksoNR?
Luckily most of the issues faced are solved through individualized education, demonstration of the device, or even allowing the patients to observe other stroke patients get into the device and complete a gait training session.
They have also implemented slow gradual exposure. Sometimes that looks like doing the evaluation, they get them up, and all they do for that session is weight shifting. It might not have been what the clinicians had planned that day, but it got then the buy-in they needed so that they could do a full gait training session the next day.
 As an inpatient rehab unit, they are very fortunate to work as an interdisciplinary team. Sometimes the solution has been doing co-treats with occupational therapy or with speech therapy, or even neuro-psychology depending on what the root causes for the difficulty of the patient to engage with the device and complete the session that they needed them to.
What are the most difficult barriers to overcome?
The patient specific barriers are the most obvious, but they have found that it's sometimes the environmental or the clinical barriers that are the most difficult to overcome. Some environmental and clinical barriers can be as concrete or as tangible as spatial limitation, but they can also be as difficult to solve for a variety of different reasons such as scheduling issues or time constraints.
Stay Tuned For More Blogs About EksoNR or Click Here to View The Webinar in Full